Are you planning to get married this year?
Then of course, you're going to want to be the most stylish bride your friends and family have ever seen!
Admittedly, most of us are guilty of daydreaming about the perfect day since, well, forever. But that ginourmous, poofy meringue dress that you thought would be your perfect dream wedding dress back when you were eight?
Let's just say that your style's had a bit of an upgrade since then!
And we've got the scoop on the hottest trends for this year, for all things bridal.
The Dress
Forget about anything else. The Dress? It comes first.
And taking a look at the bridal runways this year, we're really loving the hint of a softer, sweeter air of romance.
Because weddings aren't just about making a dramatic style statement. They're also a celebration of love! So why shouldn't you wear it on your sleeve – or in this case, on an off the shoulder, cap-sleeved dress, with lots of gorgeously dreamy silk chiffon floating in a soft cloud behind you?
Beyond white
Wearing anything but white at a wedding used to result in headline-grabbing attention. And while pure white is still a great traditional favourite, for those amongst you who prefer to stand out from the crowd and show off your individuality, you'll love the rise in new non-traditional colours for the bride.
The new shades aren't about splashing about in ostentatious brights though.
Think soft, pearlescent shades of pastels – blues, lilacs and blush hues, or demure and gently seductive hints of caramel and nudes.
We loved Jenny Packham's collection especially, which featured plenty of non-white dresses that would utterly stunning!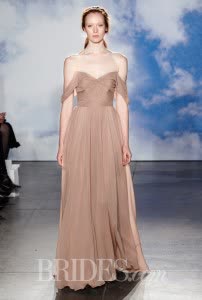 A twist on baby's breath
Baby's breath is one of those especially common little flowers that seem to make their way into every bridal bouquet ever made in human history.